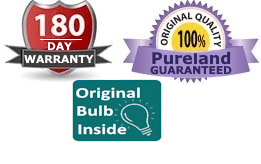 Epson Projector Lamp
The EB-Z10000U Epson twin-pack projector lamp replacement comes with genuine original 380 watt Original bulbs inside rated at 10,000 lumens (This is the original Twin-Pack Epson lamp shipped in an Epson box). The EB-Z10000U Twin-Pack has a rated lamp life of 2,000 hours (4,000 hours in eco-mode). This Twin-Pack has a higher lumen output and longer lamp life than other cheaper generic replacement lamps being sold elsewhere. Pureland Supply offers an 80 day warranty and free ground shipping on all lamps.
Resetting the Lamp Timer:
You must reset the lamp timer after replacing the projector's lamp to clear the lamp replacement message and to keep track of lamp usage correctly. Note: Do not reset the lamp timer if you have not replaced the lamp to avoid inaccurate lamp usage information.
1. Turn on the projector.
2. Press the Menu button.
3. Select the Reset menu and press Enter.
4. Select Reset Lamp Hours and press Enter. You see a prompt asking if you want to reset the lamp hours.
5. Select Yes and press Enter.
6. Press Menu or Esc to exit the menus.
EB-Z10000U Epson Brand Authentic OEM Twin Pack Projector Lamp Replacement. Delivered in an Epson box. Original OEM lamp with standard 80 day warranty.
Free Ground Shipping on ALL Orders
180-Day Warranty
Genuine Original Bulb Inside

Orders placed now will ship Monday, 9/25/2023
Rating(s)





 (0)